Gabby Asare Otchere-Darko who is a high ranking member of the governing New Patriotic Party (NPP) claims that CEO of Menzgold Ghana Limited Nana Appiah Mensah has absconded.

Gabby said the Menzgold boss has already breached his bail condition after going AWOL for months.
He said the Menzgold CEO must not be allowed to go scot-free after messing up the lives of many people with "this Ponzi matter".

He wrote: "I understand the owner of Menzgold, Nana Appiah Mensah, has breached his bail condition and absconded. We can't allow those who allegedly dupe people with such impunity to get away with it that easily.

"Let's smoke them out, wherever they are, and throw the book at them! While, I will not want a pesewa of my tax money to be involved with this ponzi matter, I believe majority of Ghanaians will agree with me that the law must come down heavily on those who use such schemes to destroy the lives of many people."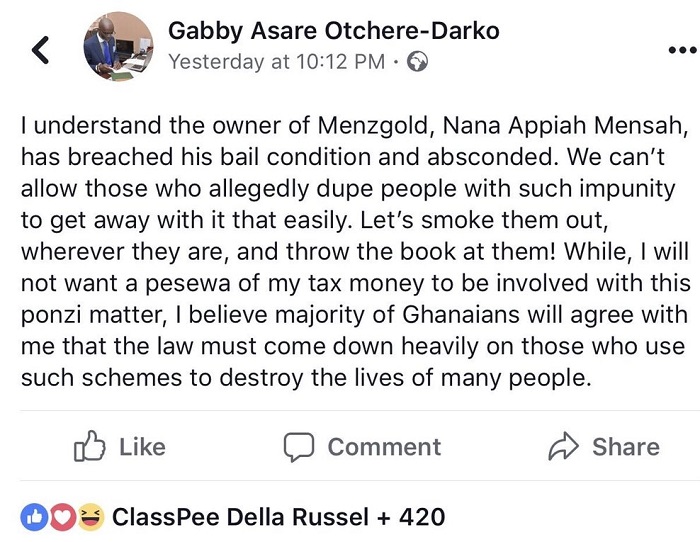 The Menzgold issue get murkier by the day and aggrieved customers have staged series of demonstrations and the latest happen in Kumasi on Tuesday January 8, 2019.
Yesterday Mrs Elsie Awadzie who is the 2nd Deputy Governor of the Bank (BoG) of Ghana said they have no power to intervene in the current Menzgold saga.
Read also: We won't intervene in the Menzgold issue -BoG