Okuapeman will enstool Odehye Kwadwo Kesse as the youngest Paramount Chief in the Eastern Region.
Okuapeman who have had a Chieftancy dispute for almost 3 years will install the 34-year-old as the new Okuapehene if all rites are completed.
It has not been a smooth ride for the Okuapem township but all came to an end on April 30, 2020, when the Judicial Committee of the Eastern Regional House of Chiefs nullified the installation of one Odehye Kwasi Akuffu as the Akuapemhene and directed that, he cannot hold himself as same.
READ ALSO: Prez. Akufo-Addo extends closure of Ghana's borders by another month
The installation processes began on Friday morning where after introducing him to the appropriate Kingmakers, a ram was slaughtered and its blood sprinkled on his feet to signify his acceptance as Okuapehene.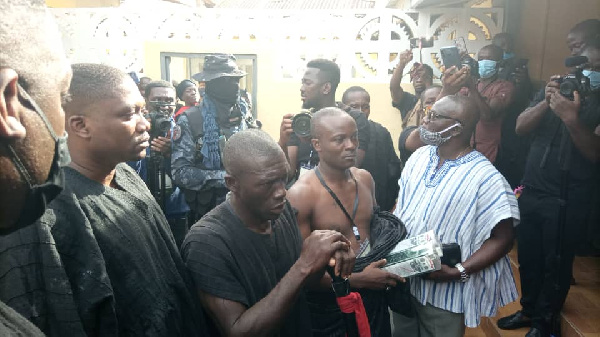 Odehye Kwadwo Kesse was then taken round the whole of Akropong township to show him to the public as the incoming Okuapehene, all things being equal.
About 3 years ago a chieftaincy dispute broke out in Akuapem following a misunderstanding between factions in the Sakyiabea Royal Gate whose turn it is to produce the next Okuapehene but that was settled on Thursday.
The Queen of Akuapem, Nana Afua Obuo Nketiaa II had by herself selected one Odehye Kwasi Akuffo and installed him as chief, at the same time one Lily Nana Agyeman, Abrewatia of Sakyiabea Royal Gate had nominated Odehye Kwadwo Kesse to be heir to the throne to succeed the late Oseeadeyo Addo Dankwa III.
Unsatisfied about events, the Abrewatia petitioned the Regional House Chiefs challenging the traditional capacity of the Paramount Queen in nominating and installing a Paramount Chief.
The judgement was delivered amidst heavy security presence both at the Regional House of Chiefs and Akropong-Akuapem.