The Management of Menzgold Ghana limited has refuted claims that the company has been accepting deposits from customers.
The BoG, in a public notice signed by Mrs Caroline Otoo, Secretary to Governor Dr Ernest Addison, Menzgold, which is known as a precious minerals trading company, is carrying out unlawful transactions by taking deposits.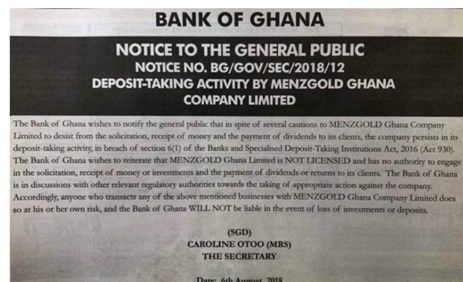 Meanwhile, According to the management of Menzgold their activities are restricted to allowing customers to purchase gold or deal in gold as an alternative investment.
Read Also: Menzgold CEO mocks Bank of Ghana over threat
This was contained in a statement released and signed by Management, of Menzgold.
 The statement assured the general public that doing business with Menzgold is safe.
Read the full statement below:

FOR IMMEDIATE RELEASE

The Management of Menzgold Ghana has sighted with deep indignation a notice from the Bank of Ghana issued to the general public on 6th August 2018.

Menzgold Ghana would like to assure our customers that we are a law-abiding organization working within the remits of our license.

We hereby state emphatically that we DO NOT accept deposits from customers or carry on a deposit taking business in Ghana. Our activities are not within the scope of the Banks and Specialised Deposit-Taking Institutions, Act, 2016, Act 930. It therefore CANNOT be said that we are in breach of the Act.

The activities of Menzgold Ghana Limited is restricted to allowing customers to purchase gold or deal in gold as an alternative investment. The Bank of Ghana is clearly aware that these activities are outside the scope of The Banks and Specialised Deposit-Taking Institutions, Act, 2016, Act 930.

Menzgold Ghana finds it unfortunate and disparaging that the Bank of Ghana, with whom we have had a number of engagements over the years and taken them through our business procedures would still issue such a statement. Unfortunate and insensitive as the statement may be, we are resolved and even keener to continue to deliver the best of service to our customers in Ghana and beyond.

Management assures the general public that doing business with Menzgold is safe. The Company is growing in strength and expanding with offices recently opened in United Kingdom, Spain and soon in Nigeria. Our doors as always are open to the Bank of Ghana and any other organisation that would want to seek clarity on our business.

That said, it is imperative that Government and other State Intuitions support indigenous business initiatives to thrive in this economy while putting in the correct supervisory mechanisms to ensure that they operate within the remits of the law.

We pray that authorities will show more interest in building, nurturing and supporting business growth in an enabling atmosphere as anything to the contrary could be detrimental to the economy of the Nation.

Signed
Management,
MENZGOLD GHANA