Maintaining a fresh, youthful glow can be achieved through some very simple tips.
 While makeup helps bring your good looks on, applying it wrongly can end up adding years to your age. However, here are some common makeup mistakes that can make you look older than your age:
MISTAKE # 1: Using too much Foundation and one that does not match your skin colour.
Most women end up looking like they are wearing a mask because their foundation does not match their face and neck. When you go too light it makes your skin appear flat and lifeless. Instead of natural, it will look like the makeup is just sitting on your skin, and this adds years to your face. But if you go too dark, you are not highlighting your features, but dragging them down and this adds dullness and heaviness that is just as ageing.
Read Also: Revealed: 8 vegetables that make you beautiful
MISTAKE # 2: Choosing a lipstick that is too dark.
As you age, you lose definition in your lips, so to appear more youthful, it's best to wear a lipstick that adds fullness. A dark colour does just the opposite, making your lips look smaller, and less highlighted. Instead, choose something in a pink tone. Adding a layer of gloss is helpful as well. Most women feel like they are too old to wear lip gloss, but a shiny finish will actually add a youthful plumpness.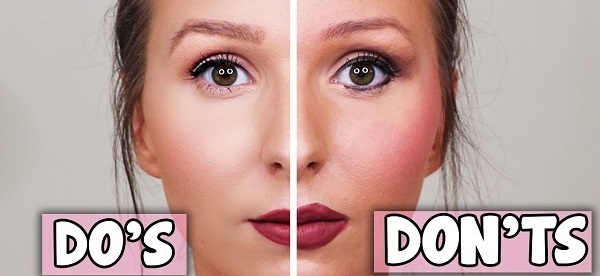 Read Also: Poor men love big breasts, the rich prefer them smaller –Study reveals
MISTAKE # 3: Using a thick mascara
This type of mascara makes clumps, you can't separate your lashes easily and all this makeup effort can make your lashes look very unflattering and can even add age. So, the solution? Avoid using a too thick formula of mascara, remember to curl your lashes and skip applying mascara on your lower lashes, because, it hardly looks great!
MISTAKE # 4: Applying a "Too dry lipstick"
Dry lipsticks, (especially the red ones) highlight all the little lines on your lips, and even those that you probably never noticed before. To avoid this problem, top up your favourite non-glossy lipstick with a clear lip-gloss), like this, your lips will appear more smooth and youthful.
Read Also: What most men crave for in their women
MISTAKE # 5: Heavy 'under eye concealer'
The area around your eyes is very delicate and needs special hydration and care. When you apply too much of concealer or a concealer that is too light, it can make the opposite effect, instead of lightening and brightening your eyes it can make you look older and highlight all the fine lines. Want to avoid this? Simply apply a thin layer of your under eyes concealer with a special makeup brush and apply it only on the areas "of darkness" where you need to conceal, you don't need to apply it all over the place.
And to add to the above, just remember that your outer world reflects your inner world; this is why feeling youthful, happy and beautiful is crucial when you want to look younger. Apply your makeup righty and save yourself any embarrassment!
Read Also: Discover why you keep losing your hair.