The Minister for Information Kojo Oppong Nkrumah says they have evidence that shows that the National Democratic Congress (NDC) granted the license for the recent importation of the huge cache of firearms that were seized by customs officers at the Tema Port.
The NDC on Wednesday, May 15, 2019, issued a statement questioning the government on why they issued a license for the importation of the arms but the government has now disputed those claims.
Minister for Information Kojo Oppong Nkrumah addressing a press conference today May 16, 2019, insists that the importation was authorised under the NDC government and the license for the importation was signed by former Deputy Interior Minister James Agalga.
"The permit under which these firearms were imported was signed by James Agalga Member of Parliament and former Deputy Interior Minister on January 5, 2017. We have a copy of the documents, we, however, find it strange that the very persons that issued the permit for the importation of these arms will today turn around and say the Akufo-Addo administration has issued a permit and has to take the security situation of this country more serious that it is doing now"

"Were all of these points of alarms that they have raised not known to them before they issued the permit?. And then when a new administration comes in and takes the necessary effort to secure the consignment and ensure that it is kept in a place and not in the hands of persons with doubtful characters then you turn round and issue statements".
Mr Agalga, when reached by Joy FM to clarify the issue, says he does not remember he signed the permit but will only admit when he sees that the signature on the document is his.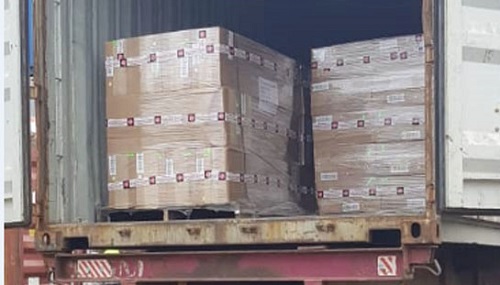 Seized firearm
Background
Customs officials at the Tema Port on May 9, 2019, have detained a container suspected to be carrying firearms.
Officers from Customs, the Bureau of National Investigations (BNI) and Port Security provided protection for the container overnight.
READ ALSO: