Ghana Premier League side Accra Hearts of Oak on Friday paid a courtesy call on the National Chief Imam of Ghana, Sheikh Dr Osman Nuhu Sharubutu as he turned 102 years.
The Chief Imam turned 102 years on April 23, 2021 and the Phobians paid him a visit and also sought his blessings ahead of their Ghana Premier League matchday 21 fixture against Karela United on Sunday, April 25 at the Cosby Awuah Memorial Park.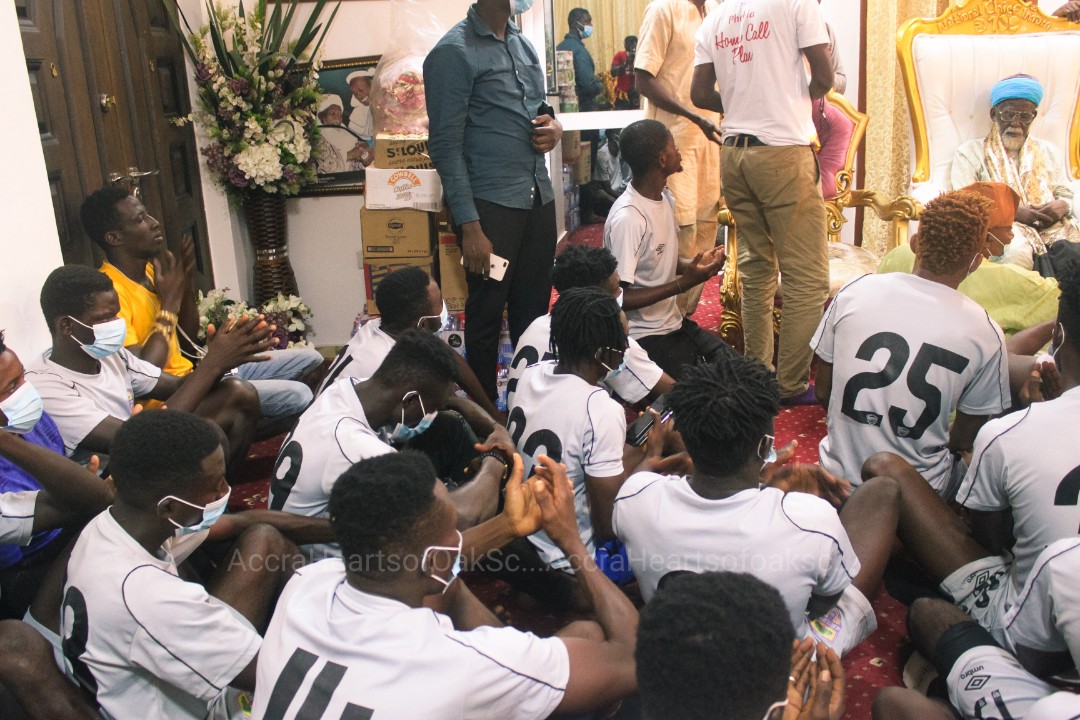 The Phobians for the past days have been training at the Sheikh Dr Osmanu Nuhu Sharubutu Sports Complex at New Fadama, Accra.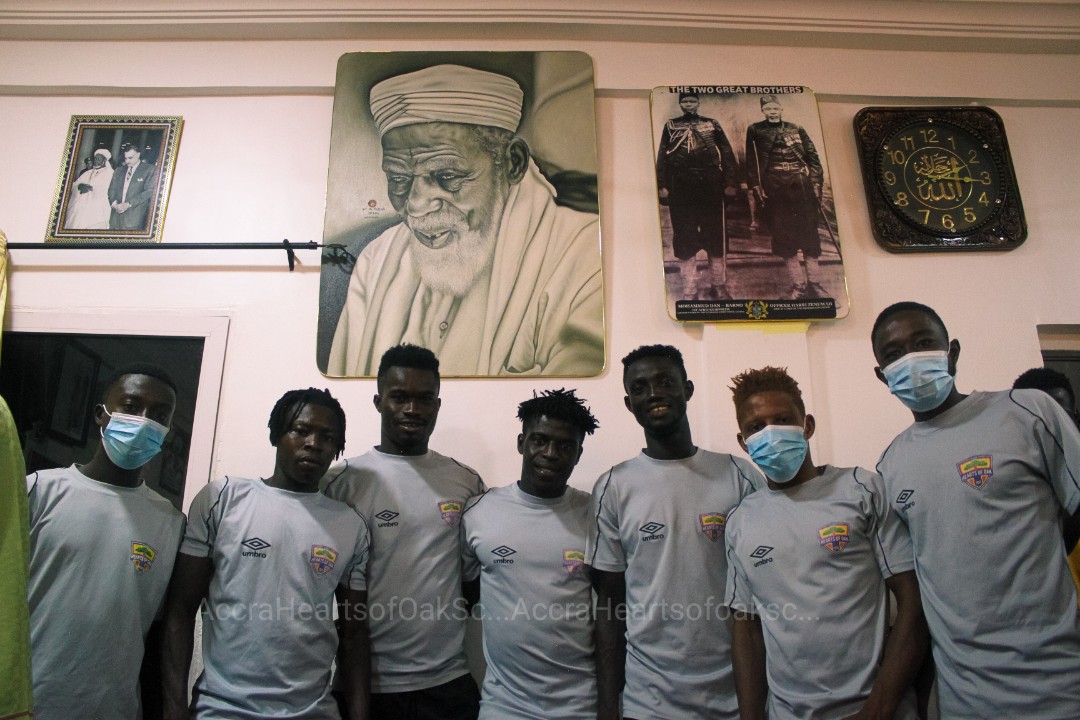 The Astroturf was commissioned on November 24, 2020 by Vice President, Dr Mahamudu Bawumia, naming it in honour of the National Chief Imam.
READ ALSO:Â Bawumia commissions Sheikh Dr Osmanu Nuhu Sharubutu Sports Complex at New Fadama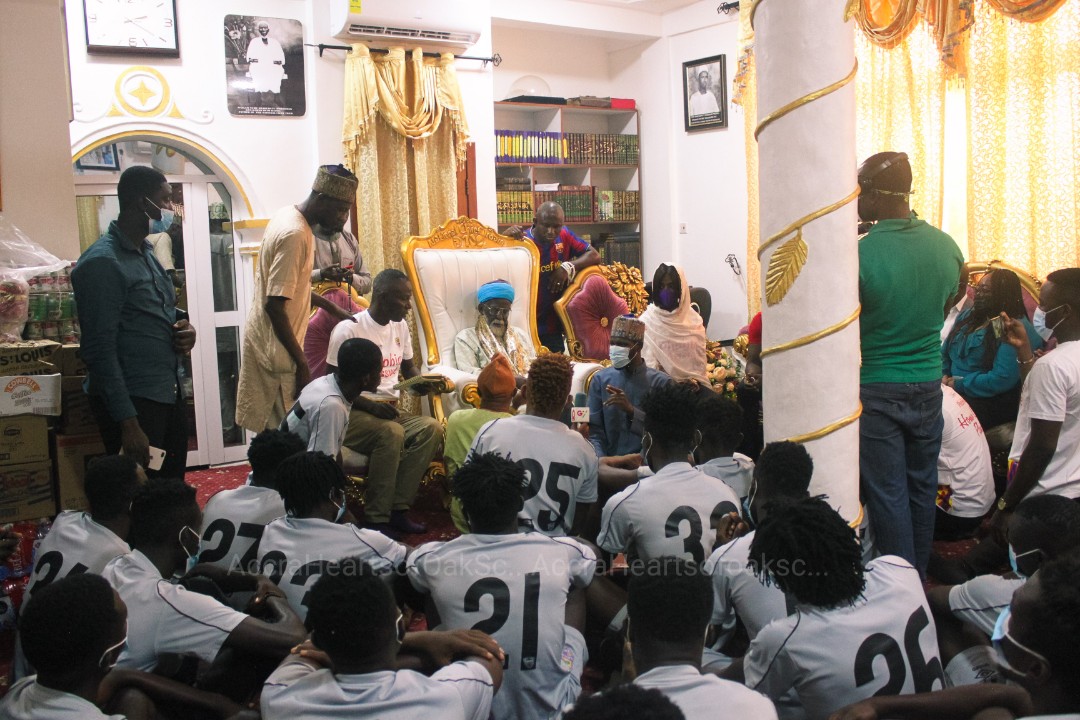 READ ALSO:Â Video+Photos: Hearts of Oak train at Fadama Astro turf ahead of Karela clash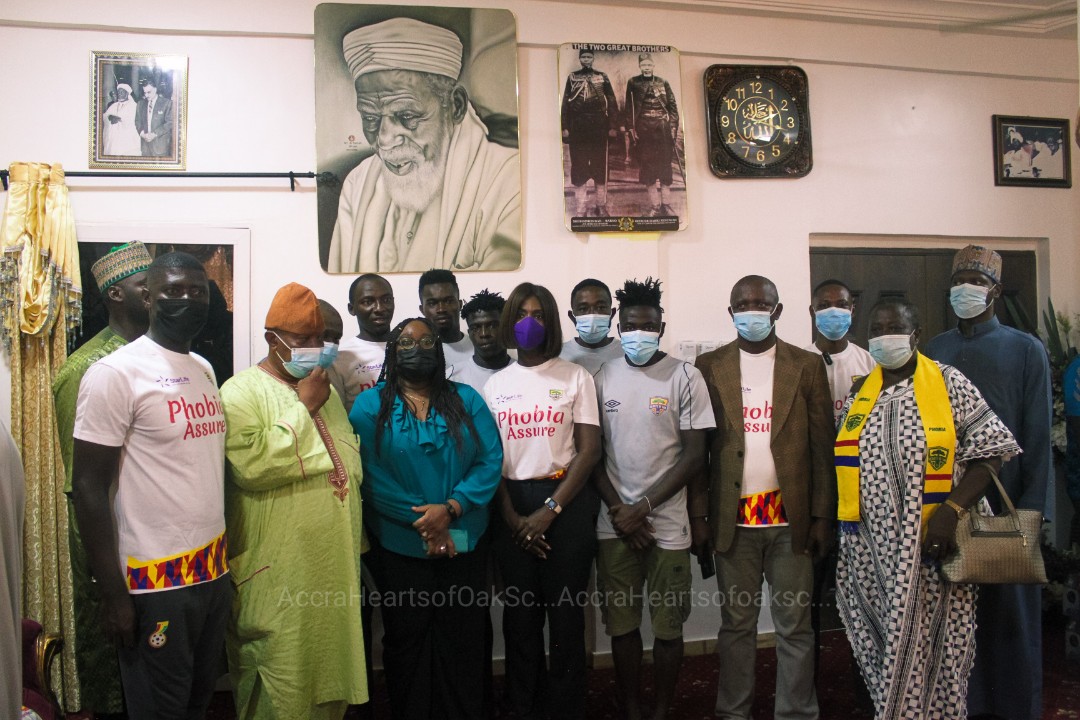 Profile of National Chief Imam
The National Chief Imam of Ghana, Sheikh Dr Osman Nuhu Sharubutu is 102 years today April 23, 2021.
The Chief Imam is a member of the National Peace Council. He is a national icon of peace, unity and development.
Place of birth
Referred to us the "Man of Peace" the National Chief Imam was born on  23 April 1919 at Old Fadama. 
His ancestors are of pure Hausa ethnicity from Northern Nigeria. Most members of present-day Hausa communities in Ghana trace their ancestry to Hausa traders in Cola nut and livestock who established communities in Dagbon, Gonja, Nkoranza, Ashanti and other places.
His ancestors, however, were not traders. The British in the 1900 Asante War of Resistance led by Yaa Asantewaa relied heavily on local West African soldiers to fight on their behalf. Hausa and Senegalese fighters were recruited to hunt and confiscate the Golden Stool of the Ashanti people.
After the war the Senegalese soldiers settled in Cape Coast whiles the Hausa soldiers settled around 37 Military Hospital area. Osman Nuhu Sharubutu was born to members of such a community. 
He studied under his father, the late Sheikh Nuhu Bin Mohammed Sharabutu, his mother, late Ayishatu Abbas (Mma Tasidi) and his uncle, the late Sheikh Mazanwaje Abbas, who was the leader of the Tijaniyyah Movement of Ghana at the time. His parents taught him Quranic recitation and Tajweed as well as essay writing in Arabic.
Mma Tasidi contributed immensely to the moral and psychological development of her son by ensuring that he had the proper Islamic upbringing to go side with Islamic Education so that he grew up to be a truly Islamic Model and a Unique Islamic heavyweight in knowledge and wisdom worthy of emulation.

Since his childhood days, he rarely had time to play because he was completely devoted to his books, which helped him tremendously to commit to memory various Al-hadiths of the Holy Prophet, Islamic texts, Islamic Jurisprudence and Islamic literature.

Furthermore, to better equip young Osman with his onerous tasks ahead, and to shoulder future challenges and responsibilities, Sheikh Nuhu Bin Mohammed Sharabutu organized night classes for his son.
He exposed his young son to the complexities of Arabic Morphology (Sarf) and Logic in Islamic philosophy to enable him to fully comprehend the highly advanced texts and Rhetoric in his future studies.

By the age of twelve, Osmanu had mastered the recitation of the whole of the Holy Qur'an and had become one of the youngest Huffaz at the time to have memorized numerous verses and Suras (chapters) of it.
When his father, Sheikh Nuhu, realized the potentials of his son, he decided to send him to a new learning environment in Kumasi where he studied under Sheikh Abdoullah Dan Tano among other prominent scholars.

Mallam Ousman became a completely changed and reformed personality upon return from Kumasi, due to deep knowledge he acquired outside his original environment.
After careful contemplation, he made the decision to devote his time to teaching the Muslim youth who are keen on learning to become Islamic Scholars, thinkers and Sheikhs in future.
Among his students are Sheikh Yahya El-Ameen, Mallam Adam Attah, Mallam Saeed, Alhadji Jibril Madaha, Mallam Ibrahima Nyass, Mohammed Muniru "Dan Alfah" and Mallam Zurkanain. the late Sheikh Alhadji Haroun Rasheed was his contemporary.

He remained in the teaching profession for a number of years. Due to his keen love for knowledge, anytime he heard of an Islamic Sheikh, he rushed to him as a student in order to learn and benefit from that scholar.
Notable scholars whom he conferred within that regard include Sheikh Abubakar Fulaaty Al Kanawy from Northern Nigeria and Sheikh Alhadi (Baraw). Sheikh Baraw taught him interpretation of the Holy Quran, Classical Arabic Language, Literature and Texts whiles Sheikh Abubakar Fulaaty Al Kanawy enlightened him on Arabic Culture, Al-Hadith of the Holy Prophet, Arabic Texts and Fundamentals of Sufism.

His maternal uncle, Sheikh Muhammad Mazawaje Abbas who was then Imam of Tijaniyya in Ghana, saw the devotion, interest and hard work in Osman and introduced him to Tijaniyya special programmes for meditation.
He readily embraced Sufism and continued working hard with the Sufi movement until he met with the supreme commander of the Tijaniyya Sufi order of the 20th century, Grand Sheikh Alhadji Ibrahim Nyass from Kaolack in Sénégal when first Ghanaian president Kwame Nkrumah invited him for a friendly visit to the country.

Sheikh Ibrahim thought Mr Osmanu the deeper spiritual aspects of Sufi practices, the secret techniques and the rudiments of mysticism as well as other esoteric features of it.
These exposures smoothly paved the way for young Osman to become a true leader in the Tijaniyya Sufi Movement in Ghana.
Read More here National Chief Imam Sheikh Dr. Osman Nuhu Sharubutu turns 102 today