Arsenal manager Unai Emery expects Mesut Ozil to take on his fair share of defensive duties this season.
The Spaniard has called for full commitment ahead of Saturday's trip to Chelsea and insists Ozil, who has been criticised in the past for a perceived lack of effort at times, will be expected to give his all when defending for the team.
When asked about the defensive duties placed on Ozil during the defeat to City, Emery replied: "Every player needs to [defend] in the true moment of a match.
"There are defensive moments and attacking moments. Every player each needs this commitment. For me, we need to start together, whether we are attacking or defending. I want that from every player.
"The position, [Ozil] is playing all his career like a number 10-player, like a right-winger going inside to receive the ball.
"It's clear he needs the ball more to give more options in the attacking moments. He needs to do [it] in each match, be demanding for us but defensive moments are for each and every player."
Emery opted for a 4-2-3-1 formation against City but has hinted his preferred system could change as the season progresses.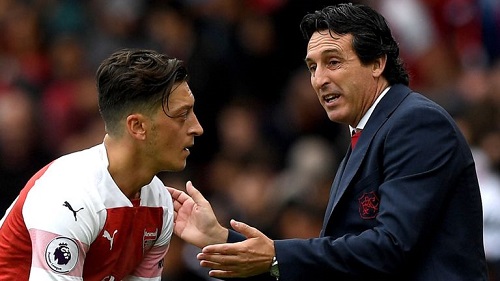 Read also:Real Madrid report Inter Milan to FIFA over Luka Modric
"It depends on the performance and if the performance is good," said the Spaniard.
"I want to give them the chances in each match and maybe we need a lot of matches for the chances for every player but we started with the pre-season and every player is playing for chances and minutes and with all the competitions.
Read also:Former Arsenal midfielder Alex Song joins Swiss side Sion
"We only play Sunday, Sunday, Sunday but in September we will start playing Sunday and Thursday and also we are going to play more matches and I think every player will get chances to show us his performance for the team."
Source: Skysports