Otumfuo Osei Tutu II turns 70 and we take a closer look at the custodian of the Ashanti Kingdom.
Early life
He was born on 6 May 1950 and named Nana Barima Kwaku Duah, the third son and youngest of the five children (three sons and two daughters) of Nana Afia Kobi Serwaa Ampem II, Asantehemaa (Queen-mother of the Ashanti).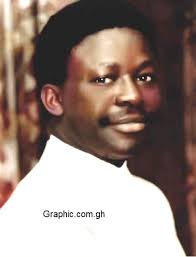 His father Nana Kwame Boakye-Dankwa was from Kantinkyere in Ashanti and was also the Brehyia Duke of Asante. Nana Kwame Boakye-Dankwa died on 1 January 2002, in Kumasi, Ashanti.
Otumfuo Osei Tutu II was named after his paternal grandfather, Ohenenana Kwaku Duah (Nana Agari), Brahyiahene, of Kantinkyiren in the Atwima district.
His siblings include Nana Ama Konadu, the 14th Asanteheemaa as well as the late Nana Konadu Yiadom III Barima Kwabena Poku, Barima Akwasi Prempeh.
When he was about five years old, Otumfuo moved into the royal household of his uncle, Oheneba Mensah Bonsu, the Hiahene, enstooled in 1952, as early preparation for his future role.
Osei Tutu has six children. His father had other offspring from other marriages, including Yaw Boateng, Kwaku Duah, Kwabena Agyei-Bohyen, Afua Sarpong and Ama Agyemang (Kumasi, Ashanti), Fredua Agyeman Prempeh, Nana Kwasi Agyemang Prempeh and Nana Kwasi Boachie Gyambibi (Kumasi, Ashanti).
The Asantehene Osei Tutu II's name at birth, Nana Barima Kwaku Duah, is the name of the Asante monarch paternal grandfather.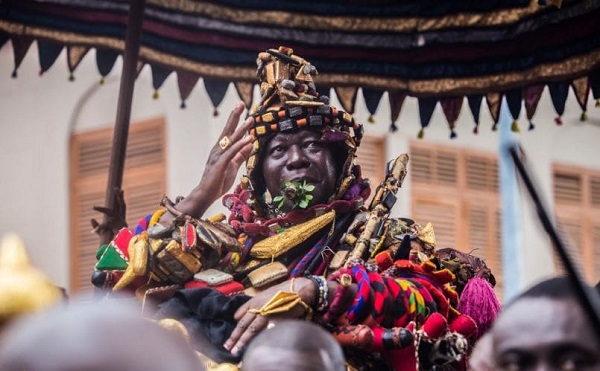 Education
He had his elementary education in Kumasi and in 1964, went on to the Sefwi Wiaso Secondary School where he obtained his 'O' Level. He was taught by the late Omanhene of Sefwi Wiawso, Nana Kwadwo Aduhene II who was a cousin of Otumfuo's guardian uncle, Oheneba Mensah Bonsu, Hiahene.
He also attended the Osei Kyeretwie Secondary School (OKESS). He studied accountancy studies at the erstwhile Institute of Professional Studies, which is today known as University of Professional Studies in Accra.
He then enrolled at the London Metropolitan University where he earned a degree in Human Resources Management and Public Administration. He was awarded an honorary doctorate, at a ceremony at the Barbican Centre on 11 January 2006.
 
Working in the private sector
Between 1981 and 1985, he was a senior consultant at the Mutual of Omaha Insurance Company in Toronto, Canada.
He returned to London in 1985 and became the Personnel Manager at the Manpower Services Commission of the Brent Council.
He then founded his own mortgage finance firm, Primoda Financial Services Limited, located on Kilburn High Road, North West London.
He returned to his native Ghana in 1989 to start a transport business, the Transpomech International (Ghana) Limited.
Kingship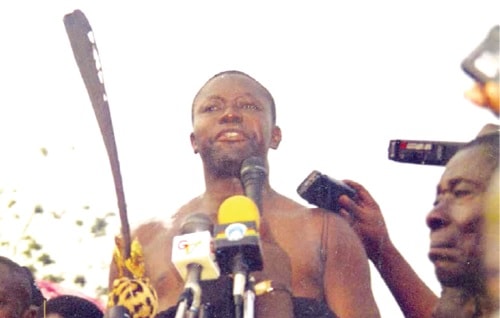 Otumfuo Osei Tutu II is the 16th Asantehene, the traditional ruler of the Kingdom of Ashanti in Ghana since 26 April 1999 till date.
By name, Otumfuo Osei Tutu II is in direct succession to the founder of the Kingdom of Ashanti, Otumfuo Osei Tutu I.
It was a momentous occasion on that day, April 26, 1999 when the then 49-year-old, riding in palanquin and wearing the "batarikese," the war-dress of the early Asante kings, entered a packed Baba Yara Stadium to rapturous cheers from Asantes and other well-wishers.
Before the coronation at the stadium, several rituals were performed in line with custom, including the swearing of the customary oath to the chiefs of the Kumasi Traditional Area at Dwabrem at the Manhyia Palace where he chose the stool name Otumfuo Osei Tutu II.
At Dwabrem, he held the "Mponponsuo," (state sword) in his right hand, and with his kuntunkuni (black cloth) dropped to his waist, hailed the tradition and customs of his ancestors while pledging to follow the path they cut.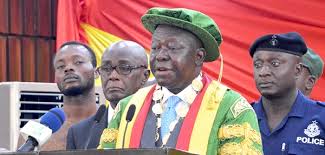 Otumfou Osei Tutu II is also the Chancellor of the Kwame Nkrumah University of Science and Technology (KNUST).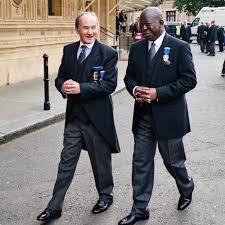 Otumfuo Osei Tutu II is the Grand Patron of the Grand Lodge of Ghana and the Sword Bearer of the United Grand Lodge of England.
Personal life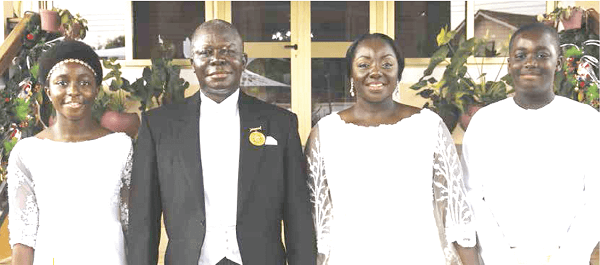 Otumfuo, Lady Julia and their children — Nana Afia Kobi Serwaa Ampem and Nana Kwame Kyeretwie
Otumfuo Osei Tutu II is married to Julia Osei Tutu. Lady Julia and Otumfuo Osei Tutu II married in April 2002 and have 6 children together. She is of the House of Oyoko Dynasty (by marriage).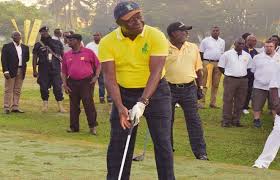 Otumfuo Osei Tutu II is a lover of golf and is very active with the sport.
Read also:Â