Airports are the main points of entry for people, including foreigners, hence they should not be seen as mere transport facilities, but should be welcoming, accommodating and secure. 
In Africa, countries are investing billions of dollars in the rehabilitation of old airports and construction of new ones to ensure a well-organized, clean and pleasant travel experience.
Yet, only four African airports have been ranked among the World's Best Airport in 2019, according to UK-based international air transport rating agency, Skytrax. Skytrax announced this on Wednesday, in its annual World Airport Awards at the Passenger Terminal Expo in London, England.
The Skytrax World Airport Awards are voted for by customers in a global airport customer satisfaction survey. Apart from counting down the 10 best airports, Skytrax honours for categories including regional airports, airport dining, best airport staff, baggage delivery and cleanest airport.
For the seventh consecutive year, Singapore Changi Airport was voted as the World's Best Airport 2019 by international air travellers.
In Africa, the world's best airports are just from two countries. The following are the best on the continent, according to air travellers:
Read Also:
New look of Kotoka International Airport
Top 5 Ghanaian photographers making waves with their works
Airports Company profits drop by 43%
This is the world's busiest airport
Cape Town International Airport – South Africa
The primary airport serving the city of Cape Town, South Africa was voted as the best airport in Africa. This is the fourth year running that Cape Town International Airport secured an award for the best airport after being recognized on multiple occasions. Globally, the airport, which has direct flights to several destinations in Africa, the Middle East, Asia and Europe, was ranked 22nd, an improvement from last year's 21st position.
Located approximately 20 kilometres (12 mi) from the city centre, the airport was opened in 1954 to replace Cape Town's previous airport, Wingfield Aerodrome. It remains a firm destination of choice for global travellers and over the past few years, it has shown sustained growth in passenger numbers with a 5.3% increase year on year in 2017, according to Airports Company South Africa (ACSA).
Growth in international passengers has been in double digits for the past few years, ACSA adds. For the first time in December 2016, the airport exceeded the 10 million passenger-per-year milestone' which repeated again in December 2017 when passenger numbers significantly exceeded this mark. The fresh and modern airport, with an easy-to-navigate layout, boasts of a library, hotels, a budget-friendly grocery store, and a few pay-to-use lounges and friendly staff.

Durban's King Shaka International Airport – South Africa
The primary airport serving Durban, South Africa is the second best airport in Africa, according to the rankings. Recognised previously in the Skytrax awards, the airport won this year's award for Best Regional Airport in Africa and Best Airport Staff in Africa serving 5-10 million passengers.
Located in La Mercy, KwaZulu-Natal, approximately 35 km (22 mi) northe city centre of Durban, King Shaka International airport opened just before the 2010 FIFA World Cup. It replaced Durban International Airport. Designed at a cost of about $900 million, the airport has, since its opening, experienced massive growth.
According to official statistics from the Airports Company of South Africa, KSIA handled a total of 5,880,390 passengers in 2018, showing a growth of 6.4%. The airport has several international airlines operating from King Shaka, including Emirates, Qatar Airways, Turkish Airlines, Air Mauritius and Air Namibia. Travellers praise the airport for its layout, efficient travel processes and manageable walking distances.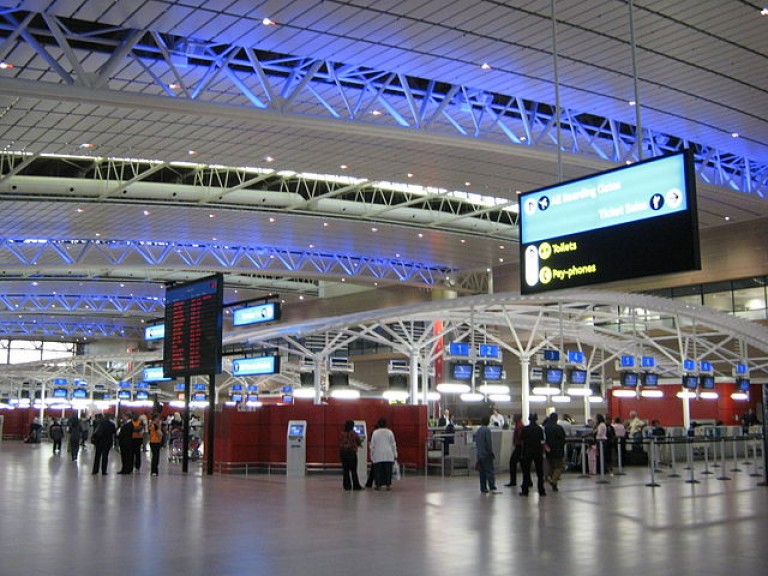 O.R. Tambo International Airport – South Africa
Previously Johannesburg International Airport, this airport is located in the main commercial and industrial hub of South Africa with excellent transport infrastructure.
Named after Oliver Tambo, a former president of the African National Congress, the O.R. Tambo International Airport is the biggest and busiest airport in Africa – receiving over 21 million people annually with the capacity to process up to 28 million. It was voted as the third best airport in Africa and was ranked 33 worldwide.
The airport services airlines from five continents across the world and plays a vital role in serving the local and regional air transport needs of South Africans, as well as international travellers. The clean and easy-to-navigate airport also boasts of high-end duty-free stores, African curio shops and a wide range of food and beverage offerings, according to Airports Company South Africa. It has been consistently ranked as one of the best airports in Africa.
Sir Seewoosagur Ramgoolam International Airport – Mauritius
The Sir Seewoosagur Ramgoolam International Airport is situated in Plaine Magnien, Mauritius, about 48 kilometres southeast of the capital Port Louis. It is the main international airport in the island nation, offering direct flights to several destinations in Africa, Europe, and Asia.
Ranked as the fourth-best airport in Africa and 94th worldwide, the airport was built in the early 1940s by British colonialists to assist in the importation and exportation of goods to and from the United Kingdom. Over the years, the airport has undergone major improvements, including the construction of a new passenger terminal in 2013.
The new terminal, which takes the shape of the Traveller's Palm, has a capacity of 4 million passengers. Last September, it was announced that construction on a new terminal at the airport is expected to commence in 2019, doubling its annual capacity from 4.5 million to nine million passengers. Formerly known as the Plaine Corail Airport, Sir Seewoosagur Ramgoolam International Airport is managed by Airports of Mauritius Co. Ltd (AML), with the government of Mauritius being the majority shareholder of AML.
Source: Face2faceAfrica