The two elderly statemen and former Presidents of Ghana, Jerry John Rawlings, and John Agyekum Kufuor have taken leadership of this country to another level by consistently trading 'insults' on each other.
In what seems to be a vicious attack on their personalities, the two former Presidents have accused each other of various but often unfounded reasons.
The genesis of this row begun when the Ghana Journalists Association (GJA) paid a courtesy call on Rawlings last Thursday.
During the meeting, he accused Kufuor of setting a bad precedent by building in a waterway which has made many follow suit and it the major cause of perennial floods in the capital city.
READ ALSO: Rawlings' cordial relationship with the NPP gov't a good thing- Ex-Prez Kufuor
"The Kufuor one, those Villagio villages and those things built in waterways...so if he can do it why can't others do it...build their houses and factories on the southern side of the motorway where it blocks the waterway,".

The spokesperson for Mr. Kufuor, Dr. Kwabena Osei Adubofour dismissed claims that his boss supervised the building of hotels and luxury apartments in waterways in Accra.
Dr. Adubour said once there is a department that is mandated to do that job if any individual or business entity is able to get a permit to put up whatever building, it is not for Mr. Kufuor to answer.
He then took a swipe at Mr. Rawlings, claiming he should be the last person to speak about integrity.
"He [Rawlings] talks about integrity? You know that it is like the pot calling the kettle black…He is the last person to talk about integrity," Mr. Kufuor's spokesperson said in an interview.
Ghanaians thought the matter had been rested but Mr. Rawlings in a tweet on Monday said Kufuor wouldn't have been a free man if not for the fact that Ghanaians are very tolerant and our Judicial system is ineffective.
Check tweet below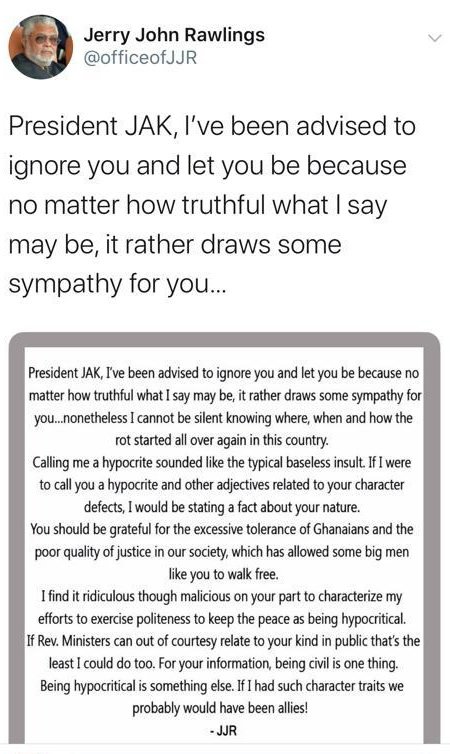 JJ Rawlings had accused JA Kufuor of leading a gang of thieves to rob this country of its resources, calling him 'Ataa Ayi'.
READ ALSO: Rawlings begs John Mahama, Kufuor
It is not clear what is causing the feud between the two former Presidents, but it appears it stems from what others perceive to be political prosecution of the former First Lady Nana Konadu Agyeman Rawlings, wife of JJ Rawlings during the JA Kuffuor Administration.