The Ghana Armed Forces say they have arrested twenty people they describe as rebels in the Volta Region town of Dzodze.
The twenty are believed to be part of the Homeland Study Group Foundation.
The group has been demanding separation from the Volta Region and parts of the Northern Region, North East and Upper East Region as well and they have been working on this for some time.
In November last year, they announced separation from Ghana through social media. They were arrested in December last year and that included the leader of the group who is above 80 years Charles Komi Kudzordzi.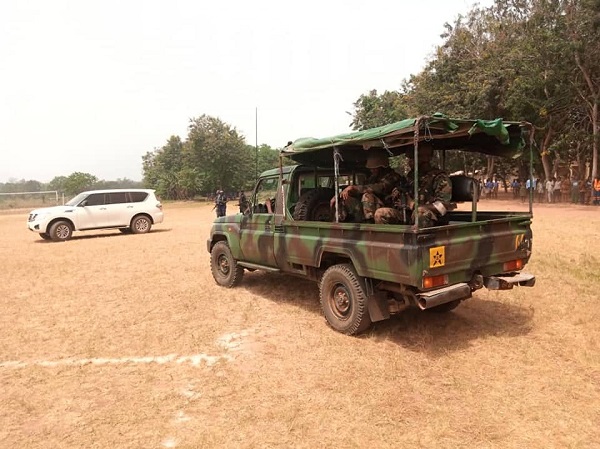 READ ALSO:Â Radio Tongu shut down for allegedly promoting agenda of Homeland Study Group Foundation
Ten others were arrested in the Upper West Region but the charges against them were dropped by the Attorney General's office subsequently.
Reports indicate that Mr. Charles Komi Kudzordzi, has been on the run ever since the charges were dropped against him last year, but he does some Youtube videos from time to time.
Pictures emerged last year of some uniformed group supposedly been trained at a place called the Western Togoland training grounds in the Volta Region.
Today some twenty people believed to be part of the group were arrested, they were made up of nineteen males and one female.
The Military men flew in a helicopter from Accra to the Volta Region and apprehended these persons.
Last year a private legal practitioner, Martin Kpebu asked the National Peace Council to engage the leaders of the secessionist group in the Volta Region known as Homeland Study Group.
According to Martin Kpebu, the Peace Council must engage them for the leaders of the group to abort their plans.
The government through the Minister for Information, Kojo Oppong Nkrumah said they were taking steps to deal with the Homeland Study Group Foundation (HSGF).
A statement from the Information Ministry said: "state security agencies are taking the necessary measures to ensure that persons involved with the illegal activities are dealt with in accordance with the law."
READ ALSO: Disregard media reports, I did not write to Gov't about Volta secessionist group - Rawlings
"Ghana remains a sovereign state which has not ceded any part of its territory to any person or group of persons," the statement said.