Two radio panelists; Abrahamani Alhassan and Peter Nlepah who are members of the NPP and NDC respectively, were involved in a dirty physical fight while engaging in a discussion on the Anas' exposé at the studios of Oti Radio at Dambai in the Volta Region.
Efforts by the management of the radio station to calm nerves failed and that led to a fight outside the premises of the radio station.
Abrahamani Alhassan who represented the New Patriotic Party at the radio station in an interview alleged that their fight was as a result of a "clear misunderstanding" between both of them.
Meanwhile, the matter has been reported to the police for further investigations.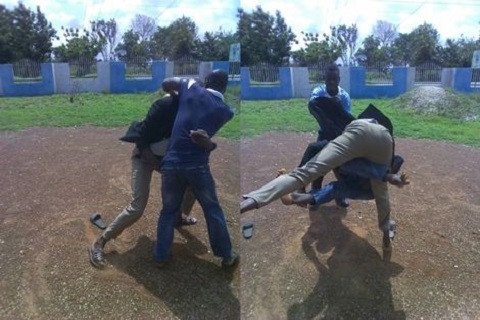 However, the leadership of the NPP in the Volta region in a statement condemned the attack and vowed not to participate in any political programme at the radio station.
Anas Aremeyaw Anas #Number12 focuses on corruption in football and football administration in Ghana.
The Anas' video has generated a huge controversy, becoming the subject for many radio and TV discussions.
Anas' video has caused a stir in Ghana due to a disclosure that the President of the Ghana Football Association, Kwasi Nyantakyi used the name of President Akufo-Addo to solicit bribes from some foreign investors.
The documentary, officially titled, 'When Greed and Corruption Become the Norm' is known popularly as 'Number 12' and it takes a sweeping look at cases of match-fixing and its effects on honest and hardworking footballers, compromised match officials.
 Ghana News: Latest news in Ghana